INTRODUCTION
ABOUT THE PLACEMENT PORTAL
The PLACEMENT PORTAL is a comprehensive Online Management and Tracking System for the recruitment of Students and Graduates from the Institution. The Portal is managed by a Placement Administrator who is responsible for the management of the Portal.
The Administrator will ensure that only the most suitably qualified Students and Graduates are shortlisted for the Advertised Positions. After the Closing Date of the Advert, the Administrator will Email the Employer Contact, the Shortlist of all Candidates who had met the Advert Criteria together with copies of their CVs
STEP 1 – Official CV
Below is an example of a sample cv, when you have completed your cv, it will look like the sample cv layout below
STEP 2 – Fill in your Details
To edit each field, you need to click edit box 1, do this for all boxes
STEP 2 – Fill in your Details
Each box has instructions that you can read and a brief explanation. Read the instructions before you edit the boxes
Once you have edited each box click on SAVE to save your cv progress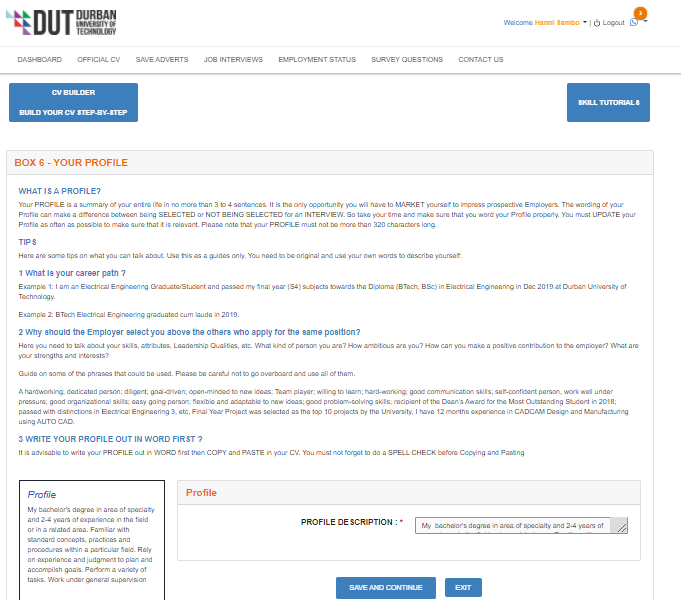 STEP 2 – Fill in you details
Below is another example of what your cv header would look like, add your details to each of the fields below.
STEP 3 – Academic Transcript
Once you have completed your 1 page cv, scroll to the bottom of the page and upload your academic transcripts or certificates. Your cv will now be complete. Make sure all boxes are filled in correctly in order for your cv to be 100% completed
THANK YOU
If you require any assistance, please contact SUPPORT via the CONTACT US menu on the Placement Portal and Placement Portal Mobile App